Decree No.8 «On the introduction of the visa-free entry and departure for foreign citizens» signed by Belarus President Alexander Lukashenko on January 9, 2017 will come into force on 12 February 2017.
Starting this date, visa-free short-term trips to Belarus will be possible.
The decree introduces visa-free entry through the border checkpoint at the Minsk National Airport and the visa-free stay in Belarus for up to 5 days for the citizens of 80 states.
These are 39 countries of Europe, including the entire European Union, Brazil, Indonesia, the USA, Japan, and other countries, that are favorable in terms of migration, or are Belarus' strategic partners which have introduced visa-free regimes for Belarusian citizens on a unilateral basis.
New regulations also apply to the non-citizens of Latvia and stateless persons of Estonia.
The document aims to raise the number of business trips, tourism and private visits of people with regular passports and will not apply to foreigners on official trips with diplomatic, service, special and similar passports.
A valid passport or other document permitting foreign travels, money (equivalent to at least two base amounts for each day of stay in the foreign currency or Belarusian rubles), medical insurance in the amount of at least €10,000 operational in Belarus will be needed for the visa-free entry.
The citizens of Vietnam, Haiti, Gambia, Honduras, India, China, Lebanon, Namibia, Samoa should also have a valid multi-visa to the EU states or the Schengen Area with a mark confirming the entry to their territory, plane tickets with a confirmation of the departure from the Minsk National Airport within 5 days after the date of the entry.
Important! The visa-free regime does not apply to people arriving to Belarus by plane from Russia and planning to go to the airports of Russia (these are internal flights with no border control).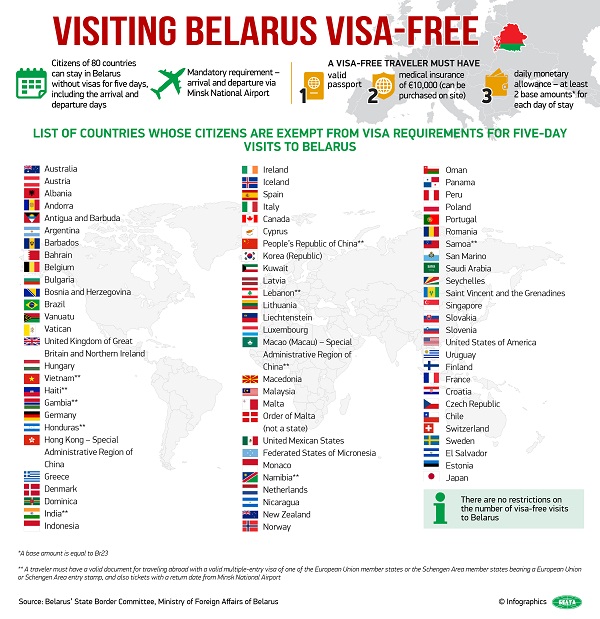 F.A.Q. about the introduction of the 5 days visa-free entry to Belarus
When the Decree will come into force?
On February 12, 2017.
What documents are required for visa-free trip?
Passport, medical insurance, funds to cover the stay.
Should both entrance and exit be made through the National Airport "Minsk" only, or other options are possible?
Both entrance and exit must be done through the airport only.
What is the 5 days period calculating policy?
First day of stay is a day of entrance, regardless the time of arrival, departure must be made not later than the end of fifths day of stay, e.g. if traveler arrived any time on Monday he must depart before 23:59:59 of the following Friday.
Will visa-free travelers require to register with the Migration Services?
No, there is no requirement to register for travelers who stays less than 5 days.
In case of emergency is it possible for traveler to extend the stay?
It is possible, extension should be requested from the Migration Services?
How often you can make visa-free trips, are there any other restrictions?
There is no limits on visa-free trips frequency, the total length of stay remains the same and must not exceed 90 days per year.
What will happen if traveler overstays?
Usual measures of administrative penalties will apply.

Will entering by train be possible in the near future?
No such plans yet.
Indian living in EU countries with valid temporary residence cards, do they also have to privilege to enter visa free?
No, a visa of an EU member state is necessary for entering visa free.
Can we apply for 30-day visa while staying in Belarus?
No, visa could be issued through Belarusian Embassy or Consulate abroad only.
5 days most welcome change, thank you. Any plans to give 7 or 10 in the future?
No such plans yet.
For Chinese it has to be on the way to Europe or back from Europe with a multiple EU visa? Is it similar to current policy?
To participate in visa waiver program Chinese citizen must have a valid multiple EU visa and such visa should be already used for visit the EU at least once before. Current visa waiver policy requires Chinese citizens to make a trip to Belarus on direct flights from China and have a valid EU visa. A condition to travel on a direct flight will be withdrawn. So, it is a new policy and an important facilitation for them.